Steamworks Program
Wilton Theater Factory
Jan 9th - Feb 16th 2020
​Henchman.................................…..........................Hank Adams
Al...................................................…......................Brian Bloomer
Twinkee Dum ..............................…........................Doug Bonds
Turd...................................................…..........................Billy Boyd
Bloody Band Aid...............................................Robert Cervera
Jennifer McClain.................................…...........Anna Christine
Twinkie Dee.............................................….............Scott Deeck
Stephen Stephan......…...........................................Erik Dupont
Lewis..............................…....................................Joshua Pettus
Old Mark...........................…...................................Dave Langler
The King of Steam.............................................Lee Poehlman
Chester.................................…...........................Francois Ratzel
Chorus....................................…................................Jeff Walters
Max.............................................…..............................Brett Watts
​
Production / Creative
Director.........…....................................................Ronnie Larsen
Lighting /Set...…......................................Melqui Domineguez
Front of House Coordinator...….................................Joel Car
Scott Deeck as Twinkie Dee
Scott D. Deeck is happy to be appearing onstage for the first time in a Ronnie Larsen production. He spent the last year doing lights and sound for 6 of Ronnie's shows here in the Foundry and at the Mainstage. His most recent stage experience was singing with the FTLGMC and their all-male version of Best Little Whore House. A special Thank You to his husband, Jerry, for all his love and support.
Erik Dupont as Stephen Stephan
The stage persona Mr. Dupont is one of uninhibited entertainment. He captivates his audience with expressive eyes, a wide pearly smile and au naturel disposition. His work includes private gigs and onstage performances that foster the adoration of the male physique as a work of art and desire.
For bookings email Edprettyboyfreak@yahoo.com
Joel Carr the Front of House Coordinator
Joel is the reason things work around here. He keeps everyone in line and makes sure we have drinks for the audience. He's really the most important person in the theather and if you doubt that, try to cross him! We ALL love you Joel!!!
Hank Adams as Henchman
Hank Adams is originally from the New York City area and was involved in the health and fitness industry until taking on improv and stand-up. He has acted in regional performances of Mixed Doubles, Who's Afraid of Virginia Wolff and Noises Off. Hank looks forward to expanding his comedic experiences into the unique and surprising world of Steamworks The Musical.
Brian Bloomer as Al
Brian Bloomer first appeared on a South Florida stage nearly four years ago in Ronnie Larsen's initial production of Party. Since then Brian has been seen on stage in various shows, some in drag, some even with clothes on! Working behind the scenes in various capacities has deepened his appreciation for everyone's efforts. "Thank you to John for your never-ending love and support, to Ronnie for assembling such a fun cast, and to our audience for supporting local theater!"
Doug Bonds as Twinkee Dum
While physically "petite," his personality is most definitely XXXL (as is his endowment) -- his piercing blue eyes and once-all-blond hair lull you into thinking sexy sweetness when you should be fearing strongwilled stubborn. Doug returns to theater -- a feature of his youth.-- to assert: 50's are the old 20's. Nudist Doug regrets his current character remains clothed and celibate -- perhaps he'll ad lib. Originally from Chattanooga Tennessee has lived in South Florida for 16 years. Chicago has been a second home for Doug, taking all this into consideration, he is very excited to be a member of the STEAMWORKS Cast.
Billy Boyd as Turd
My very first theatrical plunge. A virgin, of sorts. From Washington DC, you'd think acting and faking it would be easy. What was I thinking? LOL. My sincere thanks to Ronnie and fellow cast for their much needed encouragement and huge helping hands. It's been fun.
Robert Cervera as Bloody Band Aid
Robert is so excited to be returning to the stage after a 7 year absence. Robert's favorite show's include, Angel in Rent, Peter in Company, Ambrose Kemper in Hello Dolly, and Man #2 in The World goes Round, as well as a shark in West Side Story. Other shows include, Reefer Madness, My Fair Lady, Peter in Kiss me Kate, and Red, Hot, and Cole. Robert has an A.A. Degree in Fashion Design, he enjoys making jewelry, and working out in his spare time, as well as spending time with his boyfriend and good friends. He'd like to thank his family for their unwavering love and support.
Joshua Pettus as Lewis
Joshua Pettus is the Cofounder of Boys With Boats. He is a photographer, and up until recently he worked in the bars as a bartender part time for over 10 years. He is married to Jeremy Pettus, he is a high school graduate with some college education, an army vet that spends 90% of his life on the water. He loves enjoying life with anyone who has the same love for the nautical world.
Dave Langler as Old Mark
Dave got his start in theater in high school where he was in many productions. He continued his interest in theater in college and then back to high school for 10 year where he taught drama and directed students in many plays, including Oklahoma!, Brigadoon, The Music Man, Carousel, Fiddler on the Roof, The Man Who Came to Dinner, You Can't Take It with You, Witness for the Prosecution, Our Town, A Christmas Carol and many one act plays. He is retired now and, after a 40-year break, he is happy to be back pursuing his passion in theater.
Lee Poehlman as The King of Steam
Lee is excited to be returning to the South Florida stage after several years in Los Angeles. He has previously appeared in South Florida productions as Perón in Evita, Ed Anderson in Come Back Little Sheba and Silva Vicaro in 27 Wagons Full of Cotton. Lee can also be seen in the upcoming release of Dee Rees' The Last Thing He Wanted (Netflix Studios).
Francois Ratzel as Chester
Francois hails from San Diego, where he trained in Dance, Acting, and Voice at the Academy of Performing Arts, and S.D. city college. Long stint in NYC, training at Broadway Dance Center, and then performing
& directing in, and around New York. Now happily in FL, performing with the Gay Mens Chorus of South Florida, where he has been seen as a dancer, actor & soloist. I love you, Wheelbear!
Jeff Walters as Chorus
Jeff Walters received a Bachelor's degree in film production from Columbia College in Hollywood, CA. He has worked as Director of Photography for several music videos and short films. While studying he appeared as a background performer on Seinfeld, Growing Pains, The Body Guard, and in TV commercials. He now makes Ft
Lauderdale home, and has an identical twin brother.
Brett Watts as Max
Brett is thrilled to be back on the stage! He is originally from North Carolina where he attended North Carolina School of the Arts, majoring in drama. He is a writer of poetry and a composer. His recent work: John/James Jekyll. LOVE VALOUR COMPASSION, (ALA STUDIO), Riff Raff ROCKY HORROR SHOW (ALA STUDIO and BOCA BLACK BOX THEATER), Himself MEMOIRS OF A CRAZY M.F. (Comedy Tour) He loves south Florida and he hopes to continue to perform here. He is very grateful for this opportunity
Anna Christine as Jennifer McClain
Anna Christine is elated to be a part of her third show at the Foundry and her first show with the always creative, Ronnie Larsen. She was most recently seen as "Anna" in "Anna and the Apocalypse". Previous other roles include several previous Infinite Abyss shows, "Estelle" in "No Exit" and "Sunny" in "The Last Night of Ballyhoo". Anna would like to thank her family and friends for their constant love and support.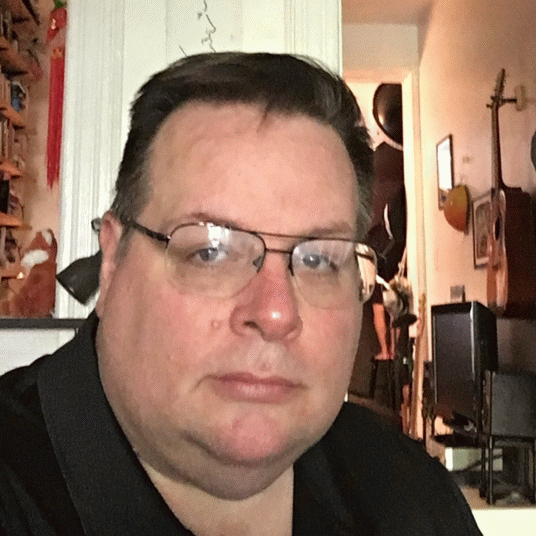 Ronnie Larsen Director
This is Ronnie Larsen's 25th production in South Florida. Larsen has had 5 shows Off-Broadway as well as productions in four foreign countries. This summer he has had shows in London, New York City and Utah. Besides being married to the theater, Larsen is going on 10 years of marriage to his awesome husband, Melquisedel Dominguez. They have one son together, a terrier named Benakee, who is currently in a long-term relationship with a tennis ball.
Melqui Domineguez Lighting /Set
This is the 1200th production Melqui has been forced to do for his kind, loving, super sweet husband, Ronnie Larsen. Melqui loves working on shows til 4am during tech week then getting up at 8am to go to work and then going back to the theater to run the box office and lights at 7pm while Ronnie does nothing but stands around talking with the audience. Melqui loves it so much he can't imagine a better life...except maybe working in a coal mine or being detained at Gauntanomo Bay or living in North Korea.